Registration dates and fees
Reduced registration fees (23/09/2014 - 15/04/2015)
Normal registration fees (16/04/2015 - 26/06/2015)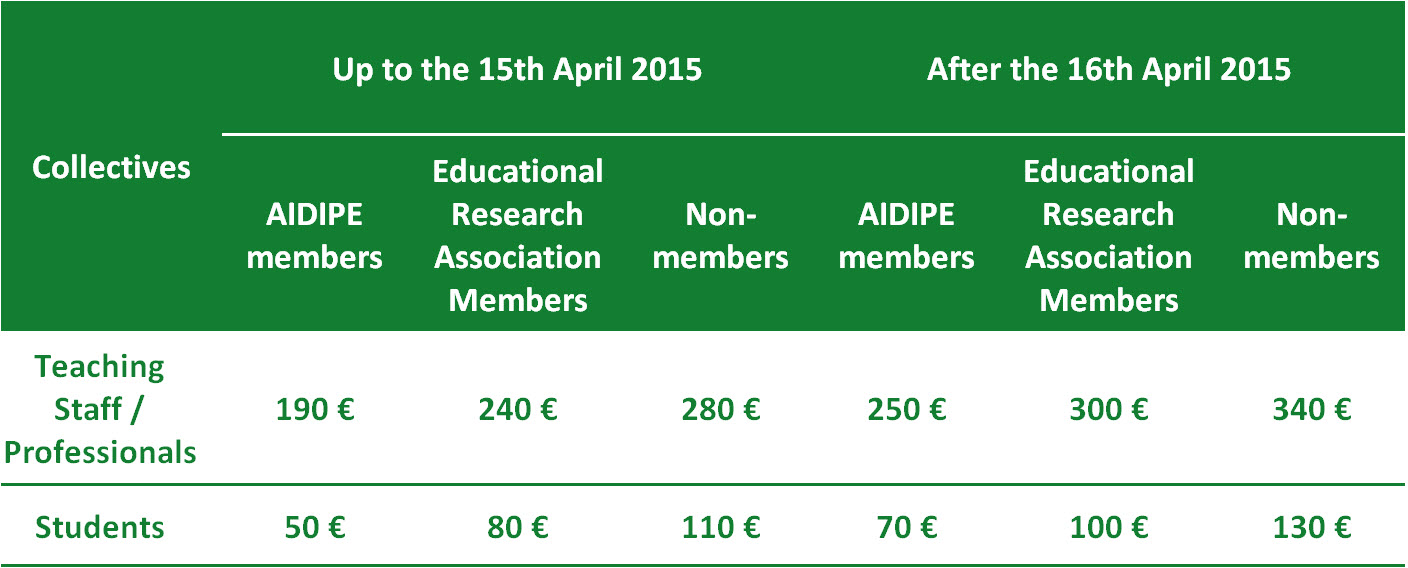 All the signatories of the contribution approved for publication must pay the registration fee.
You can join AIDIPE by completing and sending the registration form.
Registration includes:
Conference bag
Printed conference programme
Admission to all academic sessions of the conference
Presentation of the accepted contributions
Certificates regarding attendance and presentation of contributions
Publication of the contributions in the eBook with he AIDIPE2015 ISBN
Registration process
In order to take part in the AIDIPE INTERNATIONAL CONFERENCE 2015 "Research with and for society" the interested party must first of all register via the ConfTool platform:
Once registered as a participant, he/she may submit a contribution.
How to pay the registration fees
Payment of the registration fees will be carried out via bank transfer:
Bank: Banco de Santander
IBAN: ES48 0049 4870 8529 1609 2739
For international transfers:
Swift Code: BSCHESMM
Please clearly indicate "AIDIPE International Conference 2015" in the payment document, including your registration reference number.
As proof of payment a copy of the document confirming the transfer must be sent to conference secretariat: This email address is being protected from spambots. You need JavaScript enabled to view it.
Together with the payment slip students and/or members of educational research associations must also send documentary proof of their status.